soundproofing

:

SoundBlocker Quilt Superior Cavity Infill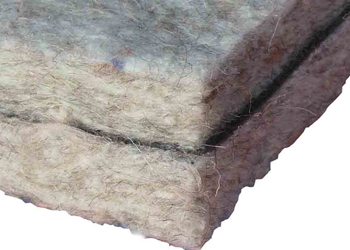 overview
SoundBlocker Quilt is a superior alternative to Rockwool acoustic insulation and an improved version of our normal SoundBlocker Quilt (now discontinued) but produced using 60% of environmentally friendly naturally sustainable sheep's wool instead of the normal fiberglass. This new and superior sound absorber/barrier offers better sound proofing than normal mineral wool and is the preferred choice for installation between joists when soundproofing a floor wall or ceiling. This eco friendly sound insulation will also give enhanced results if used as the acoustic infill when soundproofing stud partitions.

This new and improved Soundblocker Quilt is a superior laminate offering a combination of sheep's wool sound absorption combined with other recycled materials and sound blocking qualities due to its unique 2kg/m² recycled sound blocking membrane laminated in the middle. Ideal for soundproofing walls, floors and ceilings. Unlike normal sound absorbing mineral wool, due to the sound blocking membrane sandwiched within the product, it will help to block noise as well as absorb it. Using this quilt will enhance the soundproofing of any structure where it may be used instead of normal mineral wool.
testimonial
"We could not afford to lose 75 mm using mineral wool on our wall. The SoundBlocker Quilt was the product for us as it only took up 50mm and performs far better."

Gloria Turner – Blackpool